Mightycat Program
Every Kitten Deserves a Chance to Be a #Mightycat!
Orphan Kitten Club is proud to announce our Mightycat Program–the very first grant program in the world to specifically fund the care and protection of neonatal kittens! We believe that every kitten deserves an opportunity to grow, to heal, and to become a mighty cat. We are partnering with approved nonprofit organizations who share our vision, and providing them with targeted grants that save the lives of the tiniest felines.
The Mightycat Program is currently being piloted, and our partner applications are by invitation-only at this time. Thank you!

Meet Our #Mightycat Recipients
Here are some of the kittens and organizations who have received assistance through the Mightycat Program!
Jared's Journey
Jared and his brother were rescued from Valley Animal Center in Fresno, California after being thrown from a car. Jared sustained a serious break in his right rear leg that required immediate surgery; luckily his brother remained uninjured. Orphan Kitten Club covered the cost of Jared's emergency orthopedic surgery. Jared recovered from his surgery beautifully, and now he is able to run around and play just like his brother!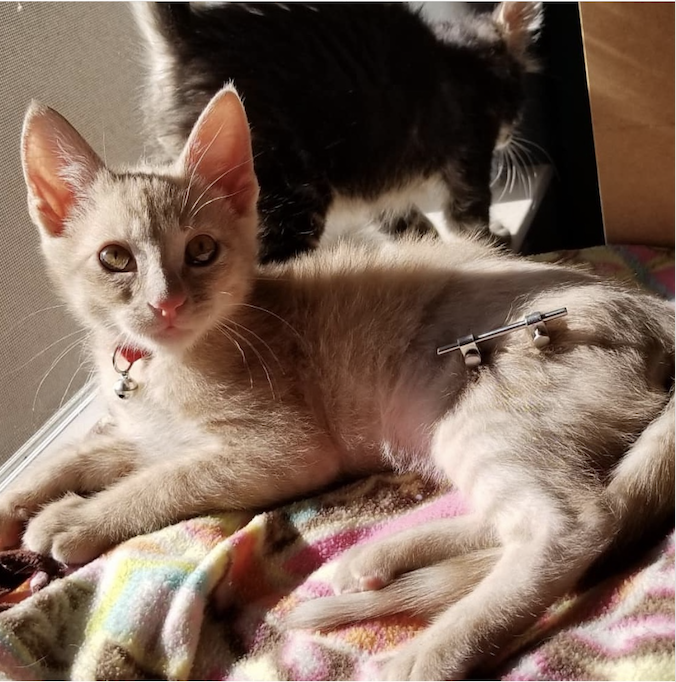 Waffles' Operation
Waffles was rescued at just two weeks old after being abandoned in Hallandale, Florida. She was in critical condition when she was found, and had already developed a serious eye condition. After seeking medical care, it was determined that Waffles' left eye needed to be removed. Orphan Kitten Club covered the cost of her enucleation, and she is now living her best life in her forever home!
Misty's Procedure
Misty was rescued from a hoarding situation in New York by the rescue group TNR Utopia. She was only one day old when she was found, orphaned from her mother, and bottle-fed by the rescue. When Misty began eating solid foods she started to frequently regurgitate her meal causing her to aspirate. Orphan Kitten Club helped fund a CT Scan that confirmed Misty had ingested a foreign object, which was then able to be removed through surgery!