Mightycat Medical Grants
Every Kitten Deserves a Chance to Be a #Mightycat!
Orphan Kitten Club provides assistance to kittens in need of emergency medical assistance for 25 strategic partner organizations throughout the United States as part of our Mightycat Grant Program.

Meet Our #Mightycat Recipients
Here are some of the kittens and organizations who have received assistance through the Mightycat Program!
Tiny Trunks
Trunks and his siblings were found outside at just 5 days old. Our partner organization Tiny Paws Kitten Rescue in Stillwater, OK rescued the litter but noticed Trunks the tuxedo had some health concerns. Tiny Trunks suffered from a chronic upper respiratory infection and had been treated with antibiotics, however something still wasn't right. Trunks was taken to the vet and during the exam a viscous fluid was aspirated from his abdominal cavity. He was Diagnosed with FIP (Feline Infectious Peritonitis) a virus that was until recently was seen as a non-treatable disease. Orphan Kitten club has granted $1,600 to help cover an innovative treatment for FIP. Trunks will be taking the drug Mutain, which has been used to successfully treat FIP in young cats.  At just twelve weeks old, we are hopeful that this drug will be an effective treatment option for Trunks.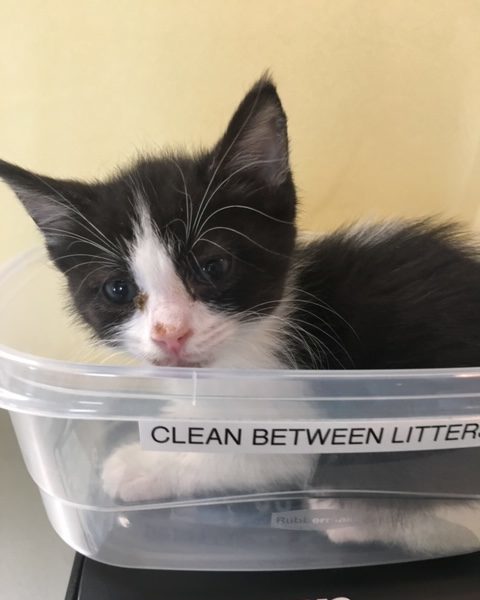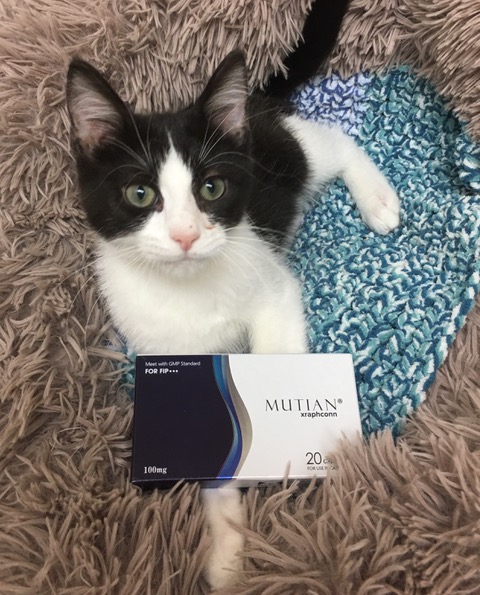 Dear Danny
Danny's litter was abandoned in a parking lot and rescued by our partner organization Newborn Kitten Rescue. As a neonate he suffered an upper respiratory infection that quickly turned into pneumonia. Danny was hospitalized and placed on IV antibiotics & oxygen support. After a few days of critical care, Danny slowly began to recover!  OKC granted $1,500 to cover the cost of Danny's initial hospitalization and for additional radiographs to ensure his lungs had completely recovered. Danny thrived in his foster home and has since made a full recovery!
Courageous Coriander
Courageous Coriander was found along the side of the road with obvious facial trauma. Our partner Organization, Yolo SPCA, stepped in to get him the care he needed. Cori was taken to UC Davis Medical Center, where he was examined and treated for his maxillofacial trauma. Orphan Kitten Club covered the cost of Cori's surgical cleaning, tooth extractions and CT scan. While he was being cared for at the hospital, a staff member fell in love with this little flame-point and ended up adopting him!
Little Miss Mona
Little Mona was surrendered to the shelter at 10 weeks of age and refused to walk on intake. The shelter immediately contacted our partner organization, Kitten Nuggets in New Smyrna Beach, Florida to help. Radiographs showed she has a displaced fracture of the left tibia and fibula and a non-displaced fracture of the right tibia. OKC covered the cost of surgery on her left leg to stabilize the displaced fracture with a pin, which will be removed about 4 weeks. Both legs are immobilized to allow the bones to heal properly, so she's our little mummy kitten! While she may not love her hot pink casts, she does love all the love, cuddles, and squishies she gets from her foster mom.
Darling Daisy
Little Daisy had a rough start to life. At 3 weeks old, she was rescued by our Partner Organization, Tiny Paws, in Stillwater, Oklahoma. Daisy had all the problems. She was emaciated, full of parasites, tested FIV+, and was suffering from a severe upper respiratory virus. Daisy was diagnosed with juvenile glaucoma and needed a double enucleation. Tiny Paws gave her all the supportive care and antibiotics to get her stabilized for her surgery, and OKC covered the cost of her care. Daisy recovered quickly and was fostered in a home with two blind cats!
Tiny Topaz
Tiny Topaz was born with her umbilical cord wrapped around her left hind leg. By the time she was untangled it had already caused too much damage and eventually her her foot and lower leg shriveled up leaving a little stump behind. Our Mightycat Partner Organization, Feline Rescue , got Topaz to a vet who determined the best course of action would be a full amputation when she reached 2 months of age. She thrived in her foster care and when she was big and strong, her tiny stump was surgically removed. Topaz is living her best tripod life and has been adopted by her foster mom.
Sydney's Surgery
10 week old Sydney was found with a belly full of tapeworms and a sever upper respiratory tract infection. Our partner organization, Yolo County SPCA, stepped in to help and had an abdominal ultrasound preformed. Sydney was diagnosed with an intestinal intussusception and required emergency surgery to clear the obstruction. OKC covered the cost of the surgery and Sydney is now recovering in his foster home.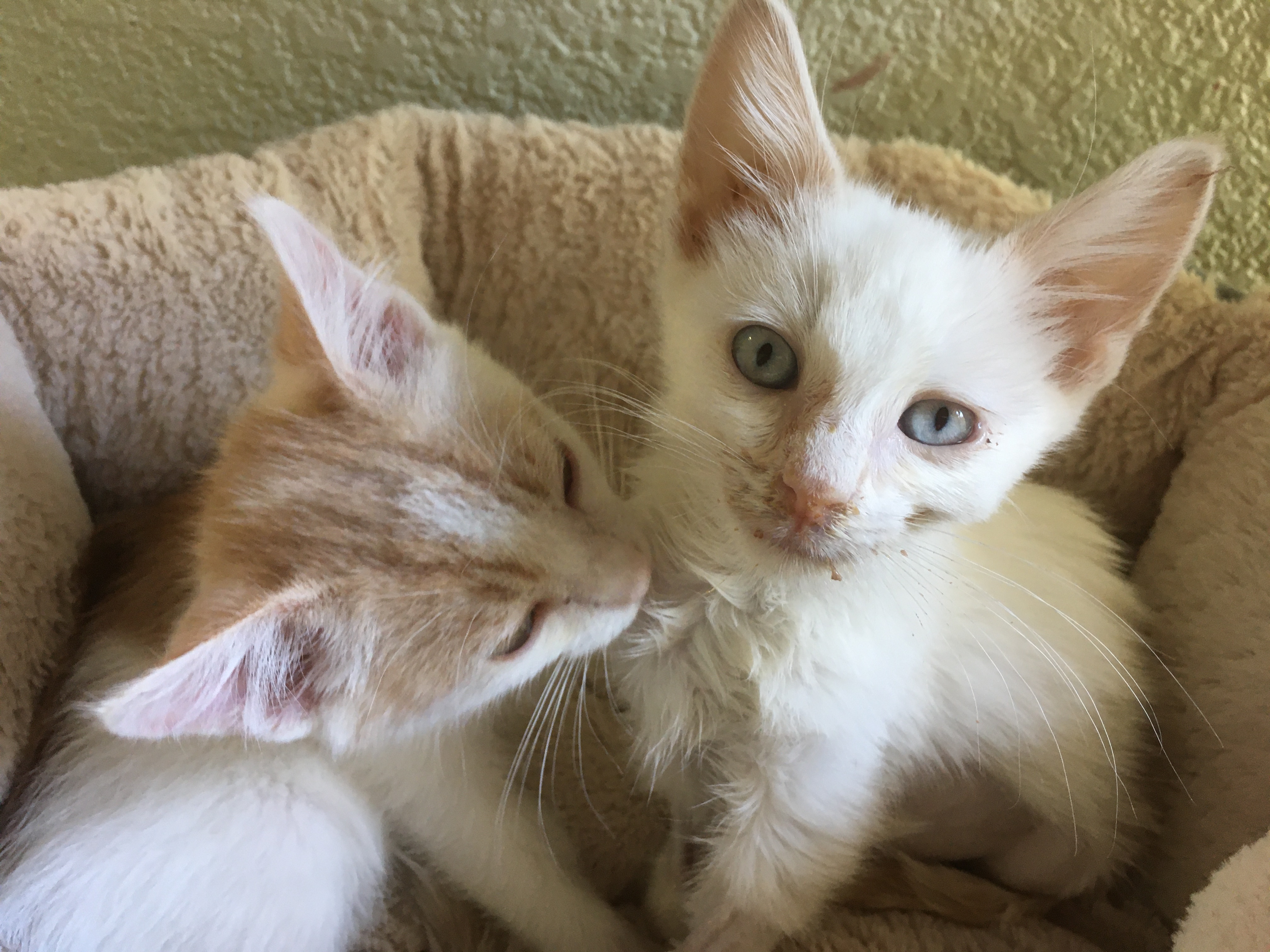 Angie's Amputation
Sweet Angie was found with a severely infected leg, living outside in an unmanaged cat colony in Queens, New York. A local rescue stepped in to rescue her and she was immediately taken to an emergency hospital. OKC helped to cover a portion of her medical care including a blood transfusion and a full leg amputation. This mighty girl is currently still in recovery but in a few weeks she will be available for adoption.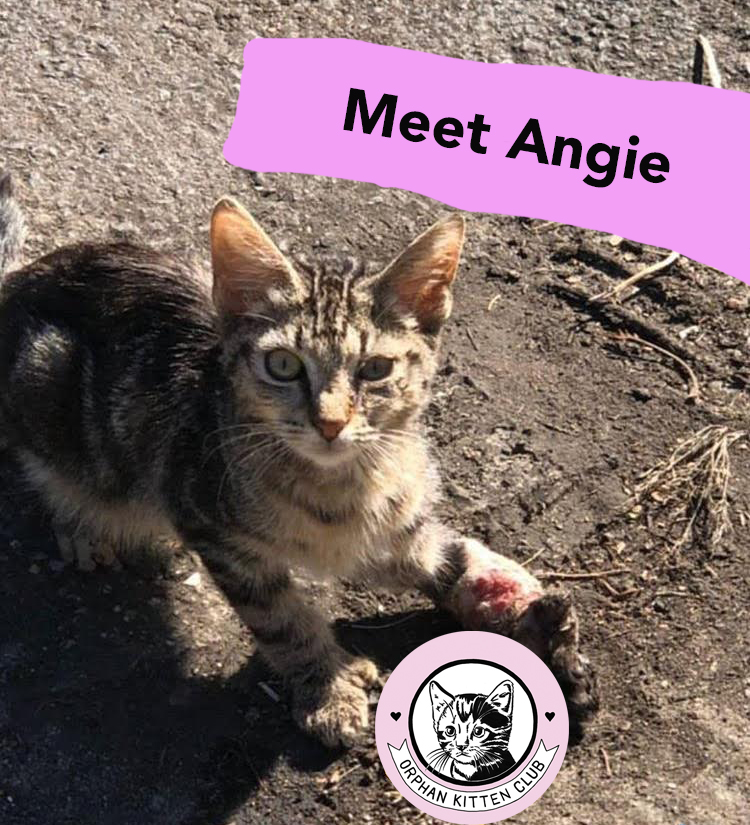 Brave Blaze
At just 4 weeks old, Blaze was trapped at a local business and rescued by our partner organization, Love Your Feral Felines. This little guy had a severely infected eye that needed medical intervention. Once brave Blaze was stable, he was taken to a specialist to have his left eye removed. OKC was able to cover the cost of his enucleation —and now Blaze is living his best life as a one-eyed-wonder kitten!
Mighty Marcella
At just 12 days old, Marcella was found on top of a roof with a severed leg. Her siblings had all passed away and her mother had been hit by a car. Poor Marcella had a rough start but thanks to our partner organization, The Little Lion Foundation, she was safe. Marcella was immediately taken to a veterinarian who decided the best course of action was a full amputation due to the location and severity of the injury. OKC was able to cover the cost of her amputation —and now Marcella is enjoying life on three legs!
Shimmer's Story
Four-week-old Shimmer was found tied to a tree hanging upside down from her rear leg.  She was brought to a shelter where she was going to be euthanized due to her injury and age. Thankfully, a local cat rescue, Love Your Feral Felines, stepped in to give her a chance at life. Shimmer's leg was infected so badly that the only answer was amputation. Orphan Kitten Club helped cover the cost of her procedure and now Shimmer is enjoying life as a three-legged kitten.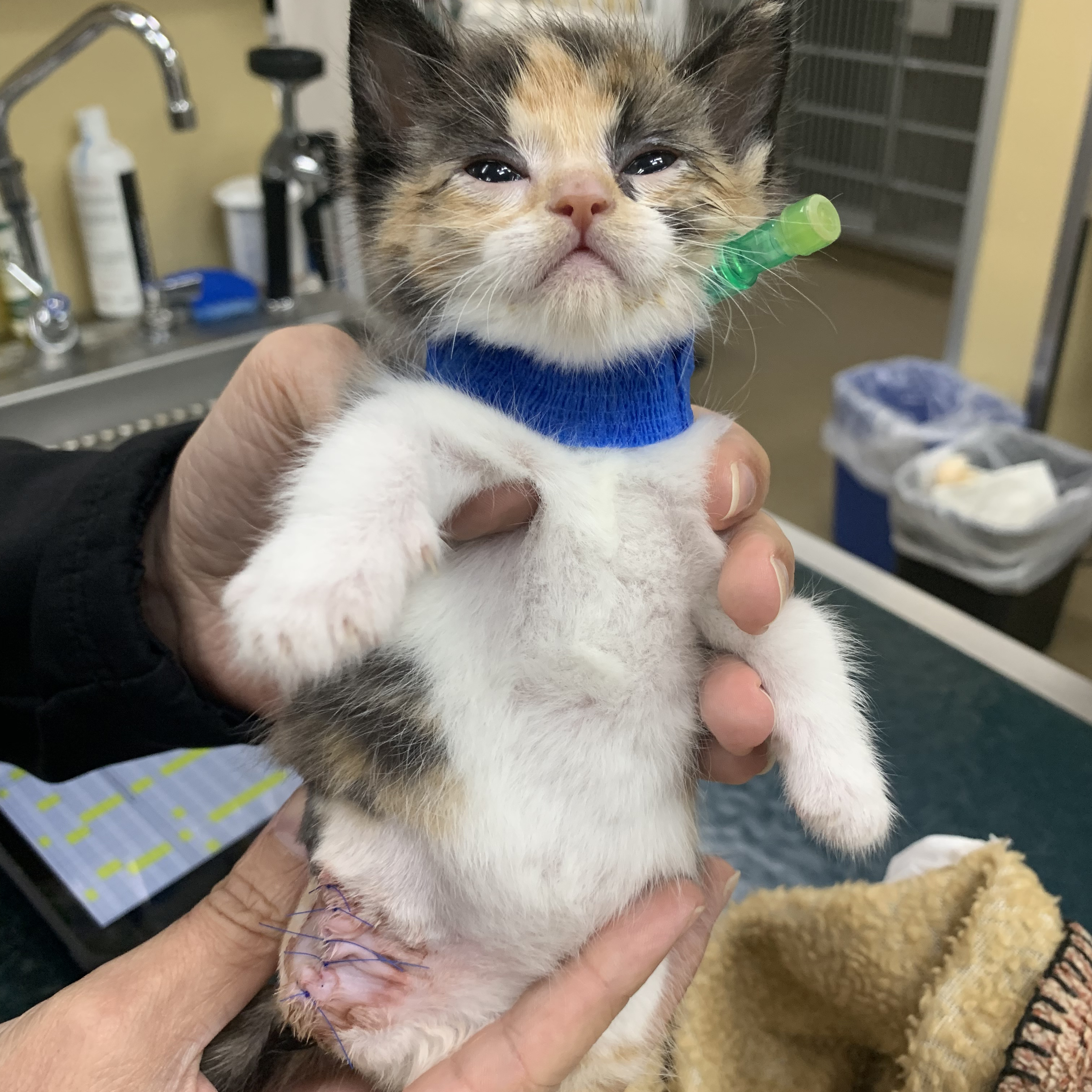 Jared's Journey
Jared and his brother were rescued from Valley Animal Center in Fresno, California after being thrown from a car. Jared sustained a serious break in his right rear leg that required immediate surgery; luckily his brother remained uninjured. Orphan Kitten Club covered the cost of Jared's emergency orthopedic surgery. Jared recovered from his surgery beautifully, and now he is able to run around and play just like his brother!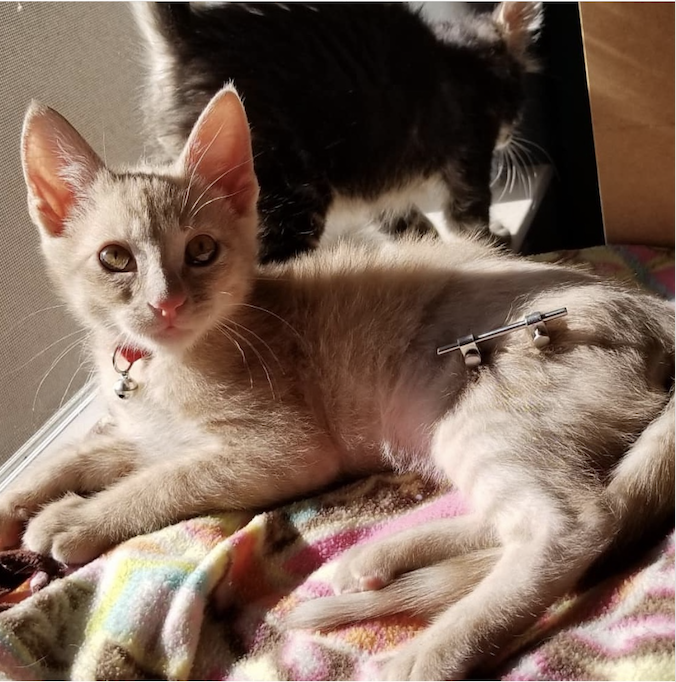 Waffles' Operation
Waffles was rescued at just two weeks old after being abandoned in Hallandale, Florida. She was in critical condition when she was found, and had already developed a serious eye condition. After seeking medical care, it was determined that Waffles' left eye needed to be removed. Orphan Kitten Club covered the cost of her enucleation, and she is now living her best life in her forever home!
Misty's Procedure
Misty was rescued from a hoarding situation in New York by the rescue group TNR Utopia. She was only one day old when she was found, orphaned from her mother, and bottle-fed by the rescue. When Misty began eating solid foods she started to frequently regurgitate her meal causing her to aspirate. Orphan Kitten Club helped fund a CT Scan that confirmed Misty had ingested a foreign object, which was then able to be removed through surgery!